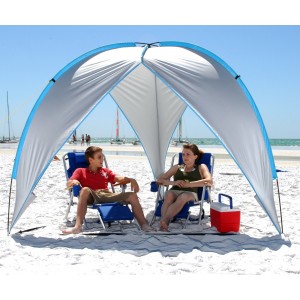 View full size
Remove this product from my favorites
Add this product to my favorites
This ABO Gear Junior Tripod beach shelter is perfect for two people. It will protect you from the harmful rays of the sun when you are out on vacation and at the beach. Protecting yourself from skin cancer should be one of your main concerns when going out to the beach and this beach shelter will help. Again, it's easy to set up and to carry.
Notice how small it folds up so that carrying it to your favorite beach won't be a problem at all. It's 8 feet by 8 feet wide and 6.5 feet tall and should give you plenty of room to lounge. At the same time, you can feel the ocean breeze and plenty of fresh air.
This beach shelter will replace those hard to handle beach umbrellas that people used to struggle with at the beach.